Translational Research
A prominent feature of the Abramson Family Cancer Research Institute (AFCRI) Translational Research Program has been their track record of translating bench findings to "first-in-human" clinical trials. This AFCRI program includes the research groups led by Drs. Mark Greene, Carl June, John Maris, Jim Riley, and Bob Vonderheide. Many of their achievements have impacted important new therapies for adult and pediatric leukemia patients, leading their chimeric antigen receptor (CAR) approach to be named a "breakthrough of the year" by Science Magazine in 2013. Moreover, the "CART-19" therapy for treating a variety of hematological malignancies has been designated a "breakthrough therapy" by the FDA. Of note, Dr. Robert Vonderheide is a co-leader of the recently announced Stand-Up 2 Cancer (SU2C)-Lustgarten Foundation Pancreatic Cancer Convergence Dream Team. This new effort, entitled "Transforming Pancreatic Cancer to a Treatable Disease" aims to develop new therapies to harness patients' own immune cells to treat pancreatic cancer. Other activities of the AFCRI Translational Research Program include genomic approaches to treating neuroblastoma, enhancing targeted therapy to treat breast cancer, identifying mechanisms of tumor regression via PD-1 and CTLA-4 blockade, and improved antibody-based approaches for reducing prostate cancer progression. Research papers from this AFCRI program have been published in the New England Journal of Medicine, Science, Science Translational Medicine, Cancer Cell, Nature Medicine, Nature, and other top-tier journals.
President Barack Obama introduced a new initiative to find a cure for cancer, and tasked Vice President Joe Biden with putting it into action. Vice President Biden chose to start with a visit to the University of Pennsylvania on Friday, January 15, 2016 to investigate ways to accelerate research like our own. Philadelphia newscast NBC 10 interviewed our own Dr. Robert Vonderheide about this visit: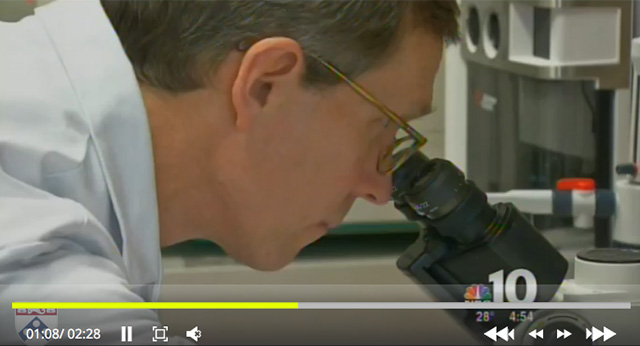 Dr. Vonderheide was also featured in print, you can read more here.